The 2013 Student Design Competition was judged at the 165th ASA Meeting in Montreal, in June 2013. The project involved the design of a college performance hall and related facilities, primarily for the school's strong opera program. There were * entries submitted from * different universities. Many thanks to those who served on the panel of judges: Clem Abercrombie (Artec Consultants), Matt Azevedo (Acentech), Juergen Bauer (Waterford Institute of Technology), Stephen Dance (London South Bank University), Tony Hoover (McKay Conant Hoover), Gary Madaras (Sound Answers), James Phillips (Wilson Ihrig Associates), Eric Reuter (Reuter Associates), Ken Roy (Armstrong World Industries), and Takayuki Watanabe (Yamaha Corporation).
And the winners are…
First Honors ($1250 prize):
Isak Naslund, Hjalmar Kaudern, Xianjuan Wong; Chalmers University of Technology (Faculty Advisors: Prof. Mendel Kleiner and Prof. Morten Mose Lund)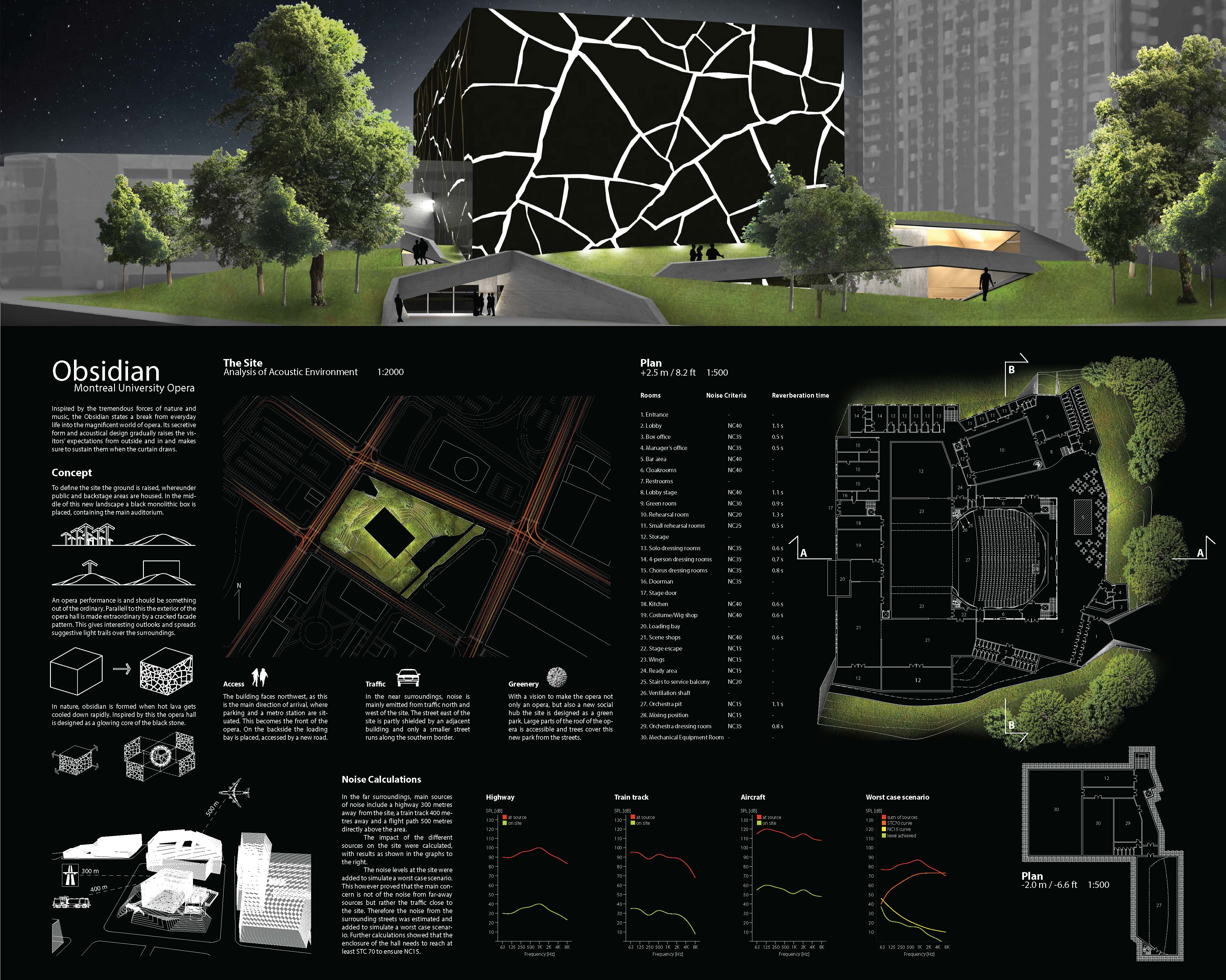 Commendations in no particular order ($700 prize):
Andrew Schmidt, Ted Pitney, Jeff Carter; Rensselaer Polytechnic Institute (Faculty Advisor: Prof. Ning Xiang)
 Mizuki Inoue, Kaoru Watanabe, Kayoko Imaiida; Tokyo Institute of Technology (Faculty Advisor: Prof. Yasushi Shimizu)
 Shota Ishizuka, Arata Onoshima, Chiemi Wakabayashi; Tokyo Institute of Technology (Faculty Advisor: Prof. Yasushi Shimizu)
 Yoshihiro Miura, Koichi Toida, Tomoya Yoshimitsu; Meiji University (Faculty Advisor: *)
Congratulations to the winners! And thanks to all those who participated in this year's competition!