The 2003 Student Design Competition was judged at the 145th ASA conference in Nashville, TN, April 2003. The project involved preparing the schematic design for an education building at a college of moderate size, containing lecture halls, classrooms and assorted support spaces. There were 16 entries submitted from 9 different schools. The panel of judges included: Russ Berger (Russ Berger Design Group), David Conant (McKay Conant Brook), Brian Kubicki (Acoustical Design Group), Ed Logsdon (David L. Adams Associates), Robert Traub (Russ Berger Design Group), and Red Wetherill (Shen Milsom Wilke/Paoletti).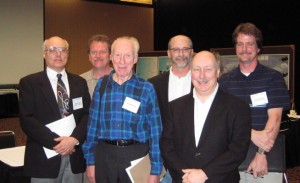 And the winners are…
First Honors ($1000 prize):
Brandon Campbell, University of Arizona (Faculty Advisor: William Bickel)
Commendations in no particular order ($500 prize):
Bill Elliott, Massachusetts Institute of Technology (Faculty Advisor: Bill Hubbard)
David Fannon, Nicole Campbell and Weifang Wang, Rensselaer Polytechnic Institute (Faculty Advisors: Yasushi Shimizu and Rendell Torres)
Robert Lee, University of Kansas (Faculty Advisor: Bob Coffeen)
Geoffrey Sparks, Matthew Hall and Joshua Bonati, Johns Hopkins University (Faculty Advisor: Neil Thompson Shade).
Congratulations to the winners! And thanks to all those who participated in this year's competition!