The 2001 Student Design Competition was judged at the 141st ASA conference in Chicago, June 2001. The project involved the design of performing arts center primarily for music on a small college campus in a major metropolitan area. There were 17 posters submitted from 10 different schools. This year's panel of judges included: Mark Holden (Jaffe Holden Acoustics), Gary Madaras (Talaske Group), Ron McKay (McKay Conant Brook), Dawn Schuette (Kirkegaard and Associates), and Leslie Ventsch (Skidmore Owings & Merrill).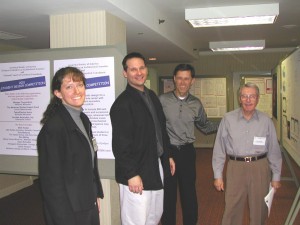 And the winners are…
First Honors ($1000 prize):
Jessica Newton and Byron Harrison, University of Hartford (Faculty Advisor: Bob Celmer)
Commendations in no particular order ($500 prize):
Mona Tamari and Jorge Carbonell, Massachusetts Institute of Technology (Faculty Advisor: Carl Rosenberg)
Lance Hayes and Derrick Knight, Rensselaer Polytechnic Institute (Faculty Advisors: Chris Jaffe, Yasushi Shimizu, Rendell Torres)
Brian Corry and Lucy Williams, University of Kansas (Faculty Advisor: Bob Coffeen)
Greg Hughes, Ryan O'Halloran, and Jon Peterson, University of Kansas (Faculty Advisor: Bob Coffeen)
Congratulations to the winners! And many thanks to the donors of this year's competition, including: Wenger Corporation, the Newman Student Award Fund, Telex/Electro-Voice and Auralex Acoustics, Inc.